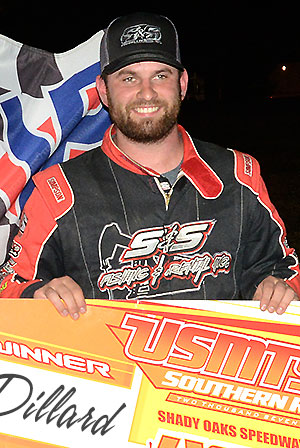 Age: 27 years old
Hometown: Robeline, LA
Car No.: 97
Team: Cade Dillard Racing
Kids: Daughter, Evie Rae

Career Highlights:
• Started racing in 2005 at Sabine Motor Speedway; Won Rookie of the Year Award and points championship.
• Over 100 career feature wins.
• Won 8 races in 2009 in an asphalt late model.
• Dueces Wild Winner ($5,000).
• 2009 Spooky 50 Winner.
• Three-time Fall Southern Showdown Winnrer.
• I-20 Showdown Winner ($2,000).
• Frost Buster 250 Winner.
• Doris Dowden Memorial Winner ($2,500).
• 2014 Texas Motor Speedway Dirt Track World Championhip Modified Winner.
• 2014 USMTS Rookie of the Year. Won first USMTS race at Winter Nationals at Ark-La-Tex Speedway on Nov. 6, 2014.
• 2015 First USMTS points race win on May 21 at the Crawford County Speedway in Denison, Iowa. Selected in July to be one of the Casey's Crew drivers with Snickers as the primary sponsor.