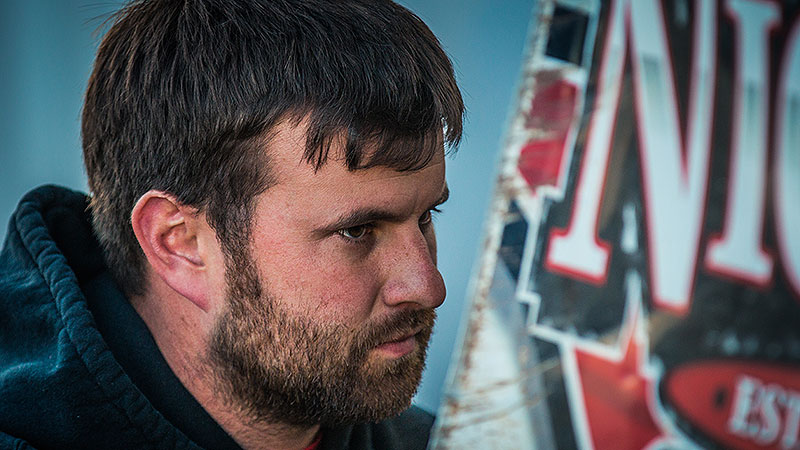 The World of Outlaws Morton Buildings Late Model Series kicked off Friday night at the Screven Motorsports Complex. Cade Dillard had an up-and-down night, qualifying fifth in Group B but finishing eighth in his heat race.
Things didn't get much better in LCS No. 2 as a seventh-place effort forced him to use his one and only emergency provisional for the year. But he did get things figured out in the feature as he climbed from his 26th starting spot to 14th, earning him hard-charger honors.
In what should have been a top five on Saturday, Dillard seemed to have a great fourth-place run going before tangling with Jason Covert in turn three with just two laps remaining. Dillard was obviously disappointed by the incident and the resulting 19th-place finish, but it gave him plenty to build off of heading into Volusia next week.
"I had a good car in the feature," Dillard said. "I was just riding, trying to stay out of trouble. Had a chance there at the end, got under (Covert), I'd say nearly nose-to-nose with him. I'm not sure if he didn't see us there or saw us and just turned left. Unfortunately, it killed our good run for us."
The 48th Annual DIRTcar Nationals at Volusia Speedway Park is the site of the next four series races, Feb. 13-16.
Friday results:
Morton Buildings Feature (50 Laps) - 1. 2-Brandon Overton [2][$10,000]; 2. 44-Chris Madden [4][$5,000]; 3. 3s-Brian Shirley [5][$3,000]; 4. 29-Darrell Lanigan [3][$2,500]; 5. 18-Chase Junghans [1][$2,000]; 6. 1-Brandon Sheppard [10][$1,700]; 7. 25-Shane Clanton [12][$1,400]; 8. 7-Ricky Weiss [9][$1,300]; 9. 9-Billy Moyer [7][$1,200]; 10. 16-Tyler Bruening [20][$1,100]; 11. 36v-Kyle Hardy [18][$1,050]; 12. 1x-Chub Frank [11][$1,000]; 13. 28-Dennis Erb [22][$950]; 14. 97-Cade Dillard [26][$200]; 15. 7r-Ross Robinson [21][$850]; 16. 22x-G.R. Smith [13][$800]; 17. C9-Steve Casebolt [17][$770]; 18. 99B-Boom Briggs [25][$110]; 19. 83-Scott James [19][$730]; 20. B1-Brent Larson [23][$700]; 21. 6-Blake Spencer [24][$700]; 22. 25h-Chuck Hummer [27][$110]; 23. 77-Brian Connor [16][$700]; 24. 72c-Jason Covert [8][$700]; 25. 6m-Mike Marlar [6][$700]; 26. 1D-Brent Dixon [14][$700]; 27. 58-Ivedent Lloyd [15][$700]
Hard Charger Award: 97-Cade Dillard[+12]
Lap Leaders - 2 Brandon Overton 1-50
Qualifying Flight-A - 1. 44-Chris Madden, 14.399; 2. 2-Brandon Overton, 14.48; 3. 22x-G.R. Smith, 14.708; 4. 1x-Chub Frank, 14.722; 5. 7-Ricky Weiss, 14.752; 6. 9-Billy Moyer, 14.755; 7. 6m-Mike Marlar, 14.781; 8. 99jr-Frank Heckenast, 14.797; 9. 53-Ray Cook, 14.808; 10. 58-Ivedent Lloyd, 14.86; 11. C9-Steve Casebolt, 14.89; 12. 7r-Ross Robinson, 14.902; 13. 6-Blake Spencer, 14.941; 14. B1-Brent Larson, 14.954; 15. 2x-John Henderson, 15.022; 16. 11B-Stacy Boles, 15.038; 17. J8-Jadon Frame, 15.214; 18. O-Ryan Scott, 15.39; 19. 83-Scott James, 15.446; 20. 27-Joe Denby, 15.964
Qualifying Flight-B - 1. 1-Brandon Sheppard, 14.348; 2. 25-Shane Clanton, 14.421; 3. 18-Chase Junghans, 14.426; 4. 29-Darrell Lanigan, 14.458; 5. 97-Cade Dillard, 14.473; 6. 72c-Jason Covert, 14.499; 7. 3s-Brian Shirley, 14.564; 8. 99B-Boom Briggs, 14.689; 9. 1D-Brent Dixon, 14.721; 10. 72-Mike Norris, 14.782; 11. 36v-Kyle Hardy, 14.793; 12. 77-Brian Connor, 14.811; 13. 16-Tyler Bruening, 14.817; 14. 42-Cla Knight, 14.841; 15. 28-Dennis Erb, 14.983; 16. 8-Matt Sponaugle, 15.064; 17. 24D-Michael Brown, 15.156; 18. 7T-DJ Troutman, 15.172; 19. 25h-Chuck Hummer, 16.758
Heat #1 - Flight (A) (10 Laps) - Top 4 Transfer: 1. 44-Chris Madden [1]; 2. 6m-Mike Marlar [4]; 3. 7-Ricky Weiss [3]; 4. 22x-G.R. Smith [2]; 5. C9-Steve Casebolt [6]; 6. 2x-John Henderson [8]; 7. 53-Ray Cook [5]; 8. 6-Blake Spencer [7]; 9. 83-Scott James [10]; 10. J8-Jadon Frame [9]
Heat #2 - Flight (A) (10 Laps) - Top 4 Transfer: 1. 2-Brandon Overton [1]; 2. 9-Billy Moyer [3]; 3. 1x-Chub Frank [2]; 4. 58-Ivedent Lloyd [5]; 5. 7r-Ross Robinson [6]; 6. 99jr-Frank Heckenast [4]; 7. 11B-Stacy Boles [8]; 8. O-Ryan Scott [9]; 9. 27-Joe Denby [10]; 10. B1-Brent Larson [7]
Heat #3 - Flight (B) (10 Laps) - Top 4 Transfer: 1. 18-Chase Junghans [2]; 2. 3s-Brian Shirley [4]; 3. 1-Brandon Sheppard [1]; 4. 1D-Brent Dixon [5]; 5. 36v-Kyle Hardy [6]; 6. 16-Tyler Bruening [7]; 7. 28-Dennis Erb [8]; 8. 97-Cade Dillard [3]; 9. 24D-Michael Brown [9]; 10. 25h-Chuck Hummer [10]
Heat #4 - Flight (B) (10 Laps) - Top 4 Transfer: 1. 29-Darrell Lanigan [2]; 2. 72c-Jason Covert [3]; 3. 25-Shane Clanton [1]; 4. 77-Brian Connor [6]; 5. 72-Mike Norris [5]; 6. 99B-Boom Briggs [4]; 7. 8-Matt Sponaugle [8]; 8. 42-Cla Knight [7]; 9. 7T-DJ Troutman [9]
Last Chance Showdown 1 (10 Laps) - Top 3 Transfer: 1. C9-Steve Casebolt [1][-]; 2. 83-Scott James [9][-]; 3. 7r-Ross Robinson [2][-]; 4. O-Ryan Scott [8][$110]; 5. 53-Ray Cook [5][]; 6. 6-Blake Spencer [7][$110]; 7. J8-Jadon Frame [11][]; 8. 11B-Stacy Boles [6][$110]; 9. 27-Joe Denby [10][]; 10. 2x-John Henderson [3][]; 11. 99jr-Frank Heckenast [4][]; 12. B1-Brent Larson [12][]
Last Chance Showdown 2 (10 Laps)- Top 3 Transfer: 1. 36v-Kyle Hardy [1][-]; 2. 16-Tyler Bruening [3][-]; 3. 28-Dennis Erb [5][-]; 4. 72-Mike Norris [2][$110]; 5. 99B-Boom Briggs [4][]; 6. 8-Matt Sponaugle [6][$110]; 7. 97-Cade Dillard [7][]; 8. 24D-Michael Brown [9][$110]; 9. 25h-Chuck Hummer [11][]; 10. 42-Cla Knight [8][]; 11. 7T-DJ Troutman [10][]
Saturday results:
Morton Buildings Feature (50 Laps) 1. 25-Shane Clanton [1][$10,000]; 2. 36v-Kyle Hardy [3][$5,000]; 3. 18-Chase Junghans [4][$3,000]; 4. 1-Brandon Sheppard [6][$2,500]; 5. 72-Mike Norris [8][$2,000]; 6. 3s-Brian Shirley [10][$1,700]; 7. 29-Darrell Lanigan [9][$1,400]; 8. 2x-John Henderson [11][$1,300]; 9. 44-Chris Madden [13][$1,200]; 10. 1D-Brent Dixon [12][$1,100]; 11. 28-Dennis Erb [16][$1,050]; 12. 2-Brandon Overton [17][$1,000]; 13. 99jr-Frank Heckenast [20][$950]; 14. 1x-Chub Frank [15][$900]; 15. 7-Ricky Weiss [14][$850]; 16. 9-Billy Moyer [22][$800]; 17. B1-Brent Larson [23][$770]; 18. 72c-Jason Covert [2][$750]; 19. 97-Cade Dillard [5][$730]; 20. 6-Blake Spencer [24][$700]; 21. 27+1-Tyler Carpenter [19][$700]; 22. 6m-Mike Marlar [18][$700]; 23. 22x-G.R. Smith [25][$110]; 24. 58-Ivedent Lloyd [7][$700]; 25. 99B-Boom Briggs [21][$700] - Hard Charger Award: 99jr-Frank Heckenast[+7] - Lap Leaders - Shane Clanton - 50 Laps
Qualifying Flight-A: 1. 72c-Jason Covert, 14.558; 2. 25-Shane Clanton, 14.572; 3. 44-Chris Madden, 14.607; 4. 1-Brandon Sheppard, 14.688; 5. 29-Darrell Lanigan, 14.721; 6. 2x-John Henderson, 14.729; 7. 2-Brandon Overton, 14.829; 8. B1-Brent Larson, 14.867; 9. 58-Ivedent Lloyd, 14.876; 10. 42-Cla Knight, 14.935; 11. 22x-G.R. Smith, 14.945; 12. 1x-Chub Frank, 14.961; 13. 6-Blake Spencer, 14.991; 14. 8-Matt Sponaugle, 15.123; 15. 27+1-Tyler Carpenter, 15.18; 16. O-Ryan Scott, 15.233; 17. 99B-Boom Briggs, 15.271; 18. 27-Joe Denby, 15.354; 19. J8-Jadon Frame, 15.441; 20. 0K-Freddie Carpenter, 15.739
Qualifying Flight-B: 1. 36v-Kyle Hardy, 14.622; 2. 18-Chase Junghans, 14.625; 3. 72-Mike Norris, 14.652; 4. 97-Cade Dillard, 14.652; 5. 3s-Brian Shirley, 14.679; 6. 1D-Brent Dixon, 14.692; 7. 7-Ricky Weiss, 14.72; 8. 28-Dennis Erb, 14.745; 9. 99jr-Frank Heckenast, 14.849; 10. 6m-Mike Marlar, 15.004; 11. 16-Tyler Bruening, 15.045; 12. 77-Brian Connor, 15.045; 13. 9-Billy Moyer, 15.058; 14. 53-Ray Cook, 15.071; 15. 24D-Michael Brown, 15.08; 16. 83-Scott James, 15.15; 17. 11B-Stacy Boles, 15.223; 18. C9-Steve Casebolt, 15.412; 19. 25h-Chuck Hummer, 17.722
Heat #1 - Flight (A) (10 Laps) - Top 4 Transfer: 1. 72c-Jason Covert [1]; 2. 58-Ivedent Lloyd [5]; 3. 29-Darrell Lanigan [3]; 4. 44-Chris Madden [2]; 5. 2-Brandon Overton [4]; 6. 99B-Boom Briggs [9]; 7. 27+1-Tyler Carpenter [8]; 8. 22x-G.R. Smith [6]; 9. 6-Blake Spencer [7]; 10. J8-Jadon Frame [10]
Heat #2 - Flight (A) (10 Laps) - Top 4 Transfer: 1. 25-Shane Clanton [1]; 2. 1-Brandon Sheppard [2]; 3. 2x-John Henderson [3]; 4. 1x-Chub Frank [6]; 5. 42-Cla Knight [5]; 6. 8-Matt Sponaugle [7]; 7. B1-Brent Larson [4]; 8. 0K-Freddie Carpenter [10]; 9. O-Ryan Scott [8]; 10. 27-Joe Denby [9]
Heat #3 - Flight (B) (10 Laps) - Top 4 Transfer: 1. 36v-Kyle Hardy [1]; 2. 72-Mike Norris [2]; 3. 3s-Brian Shirley [3]; 4. 7-Ricky Weiss [4]; 5. 99jr-Frank Heckenast [5]; 6. 9-Billy Moyer [7]; 7. 16-Tyler Bruening [6]; 8. 24D-Michael Brown [8]; 9. 11B-Stacy Boles [9]; 10. 25h-Chuck Hummer [10]
Heat #4 - Flight (B) (10 Laps) - Top 4 Transfer: 1. 18-Chase Junghans [1]; 2. 97-Cade Dillard [2]; 3. 1D-Brent Dixon [3]; 4. 28-Dennis Erb [4]; 5. 6m-Mike Marlar [5]; 6. 77-Brian Connor [6]; 7. 53-Ray Cook [7]; 8. 83-Scott James [8]; 9. C9-Steve Casebolt [9]
Last Chance Showdown 1 (10 Laps) - Top 3 Transfer: 1. 2-Brandon Overton [1][-]; 2. 27+1-Tyler Carpenter [5][-]; 3. 99B-Boom Briggs [3][-]; 4. 42-Cla Knight [2][$110]; 5. B1-Brent Larson [6][$110]; 6. O-Ryan Scott [10][$110]; 7. 6-Blake Spencer [9][$110]; 8. 8-Matt Sponaugle [4][$110]; 9. 22x-G.R. Smith [7][$110]; 10. 27-Joe Denby [12][$110]; 11. 0K-Freddie Carpenter [8][$110]; 12. J8-Jadon Frame [11][]
Last Chance Showdown 2 (10 Laps) - Top 3 Transfer: 1. 6m-Mike Marlar [2][-]; 2. 99jr-Frank Heckenast [1][-]; 3. 9-Billy Moyer [3][-]; 4. 16-Tyler Bruening [5][$110]; 5. 77-Brian Connor [4][$110]; 6. 24D-Michael Brown [7][$110]; 7. C9-Steve Casebolt [10][$110]; 8. 83-Scott James [8][$110]; 9. 11B-Stacy Boles [9][$110]; 10. 53-Ray Cook [6][$110]; 11. 25h-Chuck Hummer [11][$110]